If the corporate firewall is more restricted and the NAT Traversal of SoftEther VPN doesn't work correctly, instead use VPN Azure to penetrate such a firewall.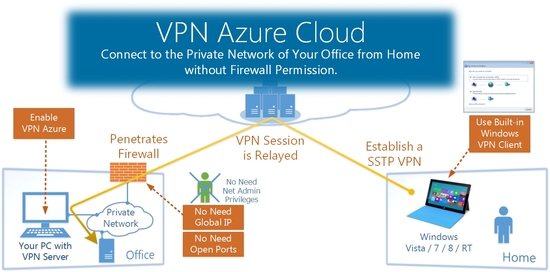 VPN Azure Relay Service
NAT Traversal works with most of NATs and Firewalls, however, some restricted firewalls cannot pass NAT Traversal packets. In such a case do not give up.
You can activate VPN Azure Relay Service
on SoftEther VPN. After that, all VPN connecting requests from VPN Client or VPN Bridge will be relayed through the VPN Azure Cloud Servers operated by SoftEther VPN Project for free of charge. VPN Azure is the ultimate methods to penetrate any kinds of firewalls.
The principle of VPN Azure is very simple. SoftEther VPN Server behind the firewall always keep a TCP-based connection toward a VPN Azure relay server. It is permitted automatically by the firewall because the direction of the initial connection is "from inside to outside" . The firewall treats such packets as trusted. VPN Client or VPN Bridge requests the appropriate VPN Azure relay server to connect to the VPN Server. The VPN Azure relay server will relay the connection request to the SoftEther VPN Server. Then SoftEther VPN Server will establish the UDP-based VPN tunnel between the VPN Server and the VPN Client (or VPN Bridge). After the UDP-based link has been established the VPN relay server doesn't relay the payloads of VPN tunnel.