Forum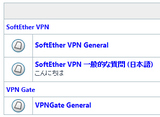 The forum is for communication between SoftEther VPN users.
If you have any questions or suggestions please ask it on the official forum. SoftEther Project's members will respond to your question on the forum.
Anyone can post and reply messages on the forum. Before posting a message you must register and login.
SoftEther VPN Project Contacts
Telephone number: +1 (650) 282-4455
Note: This telephone number only provides responses to general inquiries about the project, and non-commercial support if possible with best effort. Since SoftEther VPN and VPN Gate is open source software provided as is, free of charge without any warranty of any kind, we do not guarantee for the answer on this line.